Friday, Jul 15, 2022 | 11:30 AM - 1:30 PM
---
Join us for the first meeting of the 2022-2023 Rotary year! 
Featuring guest speaker: Erin Gruwell
A teacher of hope.
Erin Gruwell has earned an award-winning reputation for her steadfast commitment to the future of education. Her impact as a teacher attracted Hollywood's attention, and in 2007, Paramount Pictures released Freedom Writers, starring two-time Oscar winner Hilary Swank as Erin. The film is based on The Freedom Writers Diary, the New York Times Bestseller that chronicles Erin's extraordinary journey with her 150 high school students who dubbed themselves the "Freedom Writers" in homage to the Freedom Riders of the Civil Rights Movement.
By fostering an educational philosophy that values and promotes diversity, Erin transformed her students' lives. She encouraged them to re-think rigid beliefs about themselves and others, reconsider their own daily decisions, and ultimately, re-chart their future. With Erin's support, they chose to forego teenage pregnancy, drugs, and violence in order to become aspiring college students, published authors, and catalysts for change.
Erin founded the Freedom Writers Foundation where she currently teaches educators around the world how to implement her innovative lesson plans into their own classrooms. Erin's teaching methods from her time in Room 203 have been published in her powerful call to arms Teach With Your Heart, as well as The Freedom Writers Diary Teacher's Guide. Erin and teachers she has trained known as "Freedom Writer Teachers" collaborated to write Teaching Hope, a book in which stories "from the front lines of education take [the reader] from the anticipation of the first day to the disillusionment, challenges, and triumphs of the school year."
Erin and her students have appeared on numerous television shows, including Oprah, Prime Time Live with Connie Chung, Barbara Walters' The View, and Good Morning America. Their story has earned them dozens of awards, most notably the Spirit of Anne Frank Award. Erin Gruwell and the Freedom Writer Teachers also collaborated with Scholastic to create On the Record, an innovative reading and writing program. On the Record uses the Freedom Writers Methodology to improve students' reading and writing skills, as well as the quality of their lives.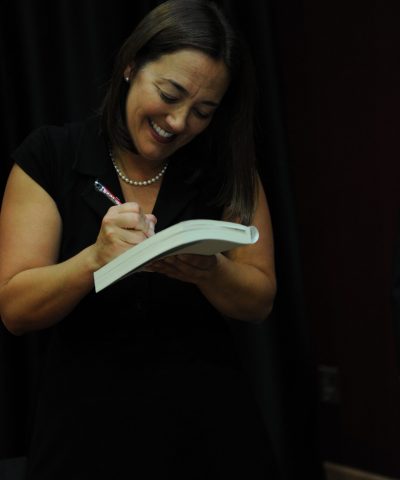 Erin continues to fight for equality in education and inspires teachers and students all over the world with her work. She speaks to schools, churches, clubs, conferences, and various other organizations through live events and video chats. She also leads the 5-day intensive Teacher Institute workshops at the Freedom Writers headquarters in Long Beach, California.