Friday, Jul 9, 2021 | 11:30 AM - 1:00 PM
---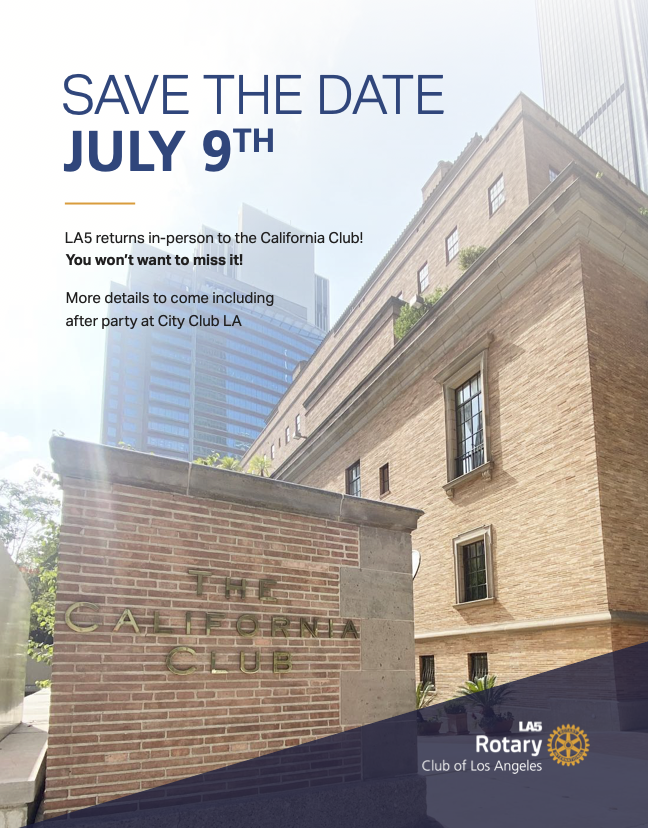 You are reading this right! 
We will be back at the California Club on July 9th for President Paul Ekstrand's Inaugural meeting! 
More details to follow including a payment link for lunch, info on an after party to follow at City Club LA and a remote attendance option. 
In the meantime, let us know you if you are planning to attend with an RSVP here.
 
___________________________________________________________________________________________
LA5 Covid-19 Vaccine Protocol Updated June 3, 2021
In order to maximize the health and safety of Rotarians, guests, employees of the California Club*, and others who may potentially be in a high-risk category for complications due to COVID-19, LA5 requires that all its members receive a COVID-19 vaccination prior to returning to in-person luncheons/meetings hosted by our Club. Our Board believes that this request is consistent with our 4-way test.
Each member will be responsible to secure their vaccination. Members with a disability-related limitation or a good-faith religious belief in opposition to vaccination, which provide cause not to receive the vaccine, are entitled to reasonable accommodation.  Enforcement of this policy will be on an honor system and consistent with our 4-way test question – Is it the Truth?
*Our Club will also adhere to any requirements set forth by our host venue, the California Club.