Supporting Our Community
LA5 Community Grants is a portion of the Rotary Club of Los Angeles Foundation that is funded each year by member giving.
These funds are distributed as grants during the annual Community Grants program, for which the presiding Club President has the privilege of choosing the focus for the Club's grant-giving.
Those that give to the '365' Community Grants fund are given a vote as to how the grants are distributed.
The Community Grants Committee oversees all gift acknowledgements, the grants distribution process, and the grant-giving program.
---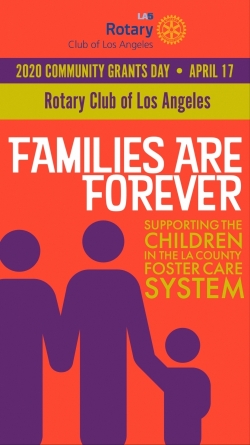 WE CAN GIVE
30,000 children are currently in foster care in Los Angeles County.
Just half of young people in foster care graduate from high school.
Only 3% graduate from college.
Half of all young adults who age out of foster care end up homeless or incarcerated.
The solution for these children of Los Angeles is a permanent home and family. Adoption.
As LA5 prepares for its Community Grants event on April 17th, you have the opportunity to help us achieve our goal of supporting foster youth programs that promote permanent placement for children in foster care.
LA5 members can contribute to this in several meaningful ways:
Nominate an organization for consideration of a grant from LA5's Community Grants fund. Click here to submit your nomination. Nominations are due by March 17th and selections will be made by the Community Grants Program Planning Committee in partnership with the Children's Court Committee and President Rick Gibson.
Donate to the Community Grants fund. The gift equivalent of a dollar a day will help make a considerable impact in helping the foster youth of Los Angeles find a permanent home and family. Click here to make your contribution.
Join us on April 17th for our LA5 Community Grants program. This keystone event for the club will highlight the ecosystem of resources that it takes to help a foster youth find a permanent home and prevent continued homelessness rates with those that 'age out' of the foster care system. LA5 is privileged to be able to gift several community grants to multiple organizations on this day. The club will also hear from several notable figures and club members themselves about the meaningful impact of giving help to the children of the court. Click here to reserve your lunch for April 17th.
Your voice matters. Show your intent and engagement with one or all of the ways outlined above!
WHY WE GIVE
Rotarians understand the power of working together. The challenges we take on alone can be made much easier as a Club and as a Community. We are asking every member to consider being a part of the solution. The youth are the key to our future and our legacy. We hope to help protect and empower them, and help to create a path of opportunity they might not otherwise receive.
HOW WE GIVE
Nominate an organization that helps foster youth in Los Angeles. Click here to submit a nomination. (Deadline: March 10th)
Attend the Community Service Grants Luncheon on April 17th... and bring a friend. Click here to reserve your lunch ticket.
Donateto LA5; contribute to the Club's Community Grants fund where the equivalent of just a dollar a day ('365') can help the club make a meaningful impact for our community's foster youth.
Sponsor: going above and beyond expectations by providing extraordinary support to foster youth through one of three sponsorship levels (see below).
HOW YOU CAN HELP
EVENT SPONSOR (a commitment of $1,500; tax-deductible portion is $1,100)
Your support will be acknowledged on the LA5 website and at the event
You will receive lunch and parking for 8 guests
Acknowledgement as a '365' contributor AND Paul Harris Fellow
TABLE SPONSOR (a commitment of $750; tax-deductible portion is $650)
Your support will be acknowledged on the LA5 website and at the event
You will receive lunch and parking for 4 guests
Acknowledgement as a '365' contributor AND Paul Harris Fellow
FRIEND SPONSOR (a commitment of $500; tax-deductible portion is $450)
Your support will be acknowledged on the LA5 website and at the event
You will receive lunch and parking for one.
Acknowledgement as a '365' contributor