For those who were at my first meeting, you heard me say "you'll hear me say often - Let's do Rotary Together!" 
I was serious about the reason that came to be the mantra for our 113rd year at LA5 and believe it even more so today as my Presidency comes to an end this week. What is the reason, you ask? Well, LA5 has made my life better through the relationships that have come from this club... this is truly a special place with amazing people that do amazing things (I know, I say it every Friday). 
I was also reminded this last Saturday at the LA5 Presidents Party how powerful we are when we work together as we celebrated handing out $67k in vocational scholarships through a new committee that took the vision of my President's Project and made it happen in 5 months supporting 65 young adults in their next steps of life! 
This was also evident as we watched the amazing celebration of work our Children's Court Committee achieved over 30 years along with the always amazing Scholarship Day last Friday and the impactful work that committee does every year!  
Furthermore, we got back to meetings in person at the Cal Club for those who could attend and provided Zoom for those who could be there in person. This is a lot of work done by some of the most dedicated members we have along with the amazing weekly programs committee that provided us amazing speakers and programs all year. And to add to the fun, the Music Committee crushed it with good music each week and came up with the most epic Rotary President intro song ever: Acoustic version of 'Enter Sandman' by Metallica…. just sayin'.
All of this happening as a brand-new Social Events Committee forms and takes the goal of having fun along with doing life and Rotary together to a new level with events all over SoCal starting at SoFi Stadium and ending with a crazy Music & Cocktails event and a Short Film Festival, what?! We also brought back some traditions like the LA5 Holiday Party, St Paddy's Day Dinner, Wine Tastings and a Cigars & Whiskey get together. 
Oh, but that's not all, LA5 literally took over and ran the District Gala, amazing work went Into Angel City again, the Sustainability Committee had an amazing Tree Planting service event, the Peace Committee pulled off a dinner salon all over SoCal, Gateway had great get-togethers, along with the return of in-person Business Mixers. We also worked closely with our LA5 Foundation to provide funding for many worthy projects, including the funding of coats and supplies to young girls in Afghanistan as well as emergency supplies for Tonga and Ukraine, just to name a couple.
So, did we do Rotary together? 
Damn straight we did - and we rocked it!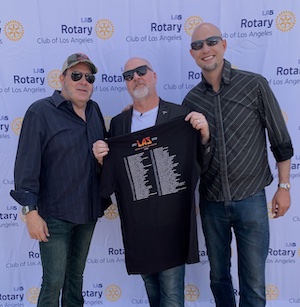 Just look at the back of the LA5 2021-2022 Tour Shirt revealed last Saturday for proof! 
One more thing, come to my demotion this Friday to learn more about some of the rock stars who went above and beyond in serving our amazing club!
Thank you for such an amazing year. Let's keep doing Rotary... together!
Yours in Rotary Service,

Paul Ekstrand 
President 2021-2022
Rotary Club of Los Angeles, LA5